BLOG: The 3 Pillars of Branding - Actions/Behaviors
The 3 Pillars of Branding - Actions/Behaviors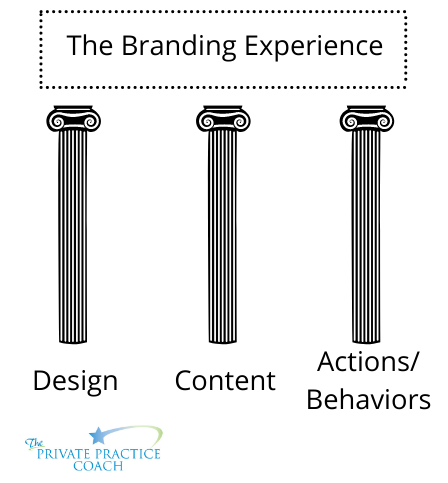 The 3 Pillars of Branding
The 3 Pillars of Branding are design, content, and actions/behaviors.
Over the last 2 months, I have covered the Design and Content pillars.
The Actions/Behaviors Pillar
This pillar addresses how your brand interacts with your Right-Fit Client and brings your brand to life. It is what your Right-Fit client experiences at every touchpoint and can make the difference in getting "the sale."
Consistency and authenticity drive this pillar. Always be real, sincere and genuine in your interactions. You and your team must live your mission and values. It starts with detailed onboarding of team members and modelling the behavior you want them to embrace. You want to deliver an experience that is consistent across each touchpoint throughout a client's tenure with your practice, from initial conversation to discharge. And the experience should be the same for all clients. Your ultimate goal is to make your Right-Fit Client a raving fan. A raving fan not only spreads the word about your practice, but also refers clients to you. This is achieved through Stellar Customer Service. Here are some examples:
Make a point of meeting each new client/family.
Make yourself available to families whether it is via phone, email or in-person.
Be straightforward about your policies and communicate any changes you make.
Send thank you cards to clients who have referred someone to your practice.
Follow through on whatever you say you will do.
Treat all of your clients/families as if they are the most important client in your practice.
The 3 Pillars of Branding contribute to how your brand is perceived and experienced. Make sure your brand differentiates you from your competitors and demonstrates why your Right-Fit client should choose you!
How to Connect With Renee
I'd love to hear from you:
Email: renee@theprivatepracticecoach.com
Website: www.theprivatepracticecoach.com
When visiting the website, be sure to sign up for the complimentary workbook: "Know Your Right-Fit Client" and learn how to effectively market your services and products.
LinkedIn: Renee Matlock | LinkedIn
Facebook: www.facebook.com/theprivatepracticecoach
Interested in coaching: schedule a complimentary, no-strings-attached, "Talk with Renee" session to discuss your practice, your goals and your dreams and see if we are a 'Right-Fit" to work together.
Renee, the owner of The Private Practice Coach shares with clients her knowledge and expertise gained over 30 thirty years of building a profitable, multi-disciplinary private practice.