BLOG: The 3 Pillars of Branding
The 3 Pillars of Branding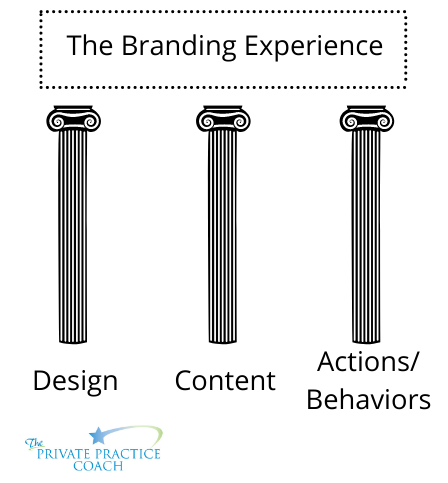 What is "branding"?
When you hear the term "branding" what comes to mind? Many people think branding is your logo, colors, and business cards. While these are components of a brand, they are just one part of branding. Your brand is the subjective perception of value based on the sum of a consumer's experience with your company and service. Branding ultimately influences the consumer's sentiment and decisions. It boils down to authentic relationship building and the Know/Like/Trust factor. Branding is all about the experience you create.
The 3 Pillars of Branding
The 3 Pillars of Branding are design, content, and actions/behaviors. Design is the pillar most people equate to the term "branding". It is the tangible, visual design elements including:
Name of your business - What does your company name convey? For example, The Private Practice Coach immediately tells you what I do.
Logo - Is it recognizable? We all know, at a glance, what brand the "golden arches" represents.
Tagline - Further describes your business.
Font - Choose a type that matches your values and be consistent across your marketing materials.
Colors - Each color has a different "feel". Choose colors that convey your values and content.
Tone - Choose words that match your personality and the personality of your business.
This quarter's blogs and newsletters will delve into the 3 Pillars of Branding. Stay tuned to make sure your practice is effectively branded and conveying an authentic message that targets your Right-Fit Client.
How to Connect With Renee
I'd love to hear from you:
Email: renee@theprivatepracticecoach.com
Website: www.theprivatepracticecoach.com
When visiting the website, be sure to sign up for the complimentary workbook: "Know Your Right-Fit Client" and learn how to effectively market your services and products.
LinkedIn: Renee Matlock | LinkedIn
Facebook: www.facebook.com/theprivatepracticecoach
Interested in coaching: schedule a complimentary, no-strings-attached, "Talk with Renee" session to discuss your practice, your goals and your dreams and see if we are a 'Right-Fit" to work together.
Renee, the owner of The Private Practice Coach shares with clients her knowledge and expertise gained over 30 thirty years of building a profitable, multi-disciplinary private practice.