BLOG: The 3 Pillars of Branding - Content
The 3 Pillars of Branding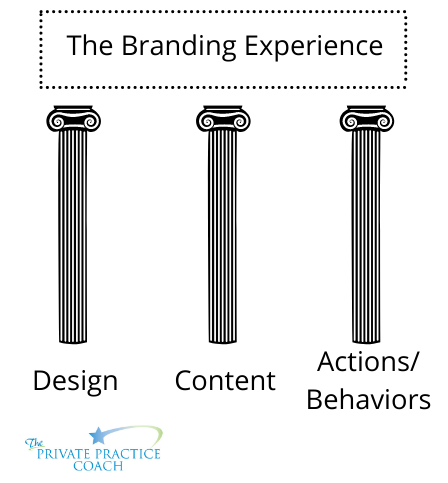 The 3 Pillars of Branding
The 3 Pillars of Branding are design, content, and actions/behaviors.
Last month, I covered the Design pillar of branding. If you missed it, you can read about it here.
The Content Pillar
Your content allows your Right-Fit Client to connect with you and your business. The words you use are important. Your Right-Fit Client will dictate your content and style of writing. Consider what you want to say and how you want to say it. Will you use more formal, clinical content or style of writing or opt for a casual, conversational tone? You must be authentic and consistent across all forms-- website, blog, e-newsletter, marketing materials.
Make sure you are creating High Value Content that your Right-Fit Client wants to read. Let your mission and values guide your content, not your products/services.
How do you determine what High Value Content to create? Keeping your Right-Fit Client in mind, consider:
What challenges/problems do they have that you can solve?
What questions are you commonly asked?
What do you wish they knew about you, your practice, etc.?
Use your content to educate the public on your area of expertise.
Content about you/your team that is personal so your audience sees you as real people, not just a business
Entertaining or engaging content that shows your personality and sense of humor - not everything has to be serious (as long as it is tasteful)
Don't forget to use storytelling to build trust and differentiate your practice from your competitors. Using a powerful, storytelling narrative connects your brand to your Right-Fit Client. It is a key step in linking your mission and values to your Right-Fit client and builds a personal, emotional connection with your brand.
This quarter's blogs and newsletters will delve into the 3 Pillars of Branding. Stay tuned to make sure your practice is effectively branded and conveying an authentic message that targets your Right-Fit Client.
How to Connect With Renee
I'd love to hear from you:
Email: renee@theprivatepracticecoach.com
Website: www.theprivatepracticecoach.com
When visiting the website, be sure to sign up for the complimentary workbook: "Know Your Right-Fit Client" and learn how to effectively market your services and products.
LinkedIn: Renee Matlock | LinkedIn
Facebook: www.facebook.com/theprivatepracticecoach
Interested in coaching: schedule a complimentary, no-strings-attached, "Talk with Renee" session to discuss your practice, your goals and your dreams and see if we are a 'Right-Fit" to work together.
Renee, the owner of The Private Practice Coach shares with clients her knowledge and expertise gained over 30 thirty years of building a profitable, multi-disciplinary private practice.